Suns Hosting Court Dedication and Fan Fest This Friday in Prescott Valley
Suns to host court dedication, fan fest prior to open scrimmage in Prescott Valley on Friday
Prescott Mile High Middle School is 1 of 50 Basketball Courts Being Refurbished Throughout the State to Commemorate the Suns' 50th Season Fan Fest Outside the Prescott Valley Event Center Will Prep Fans for the Open Scrimmage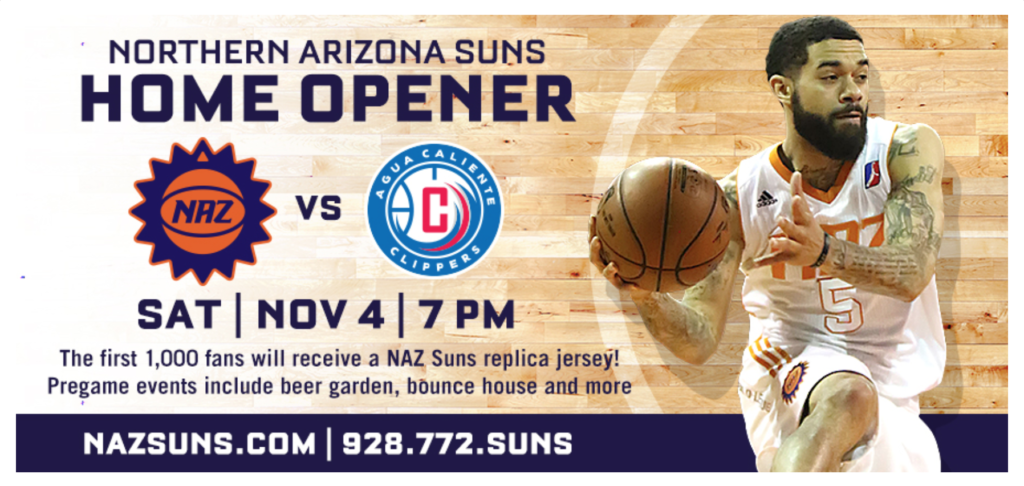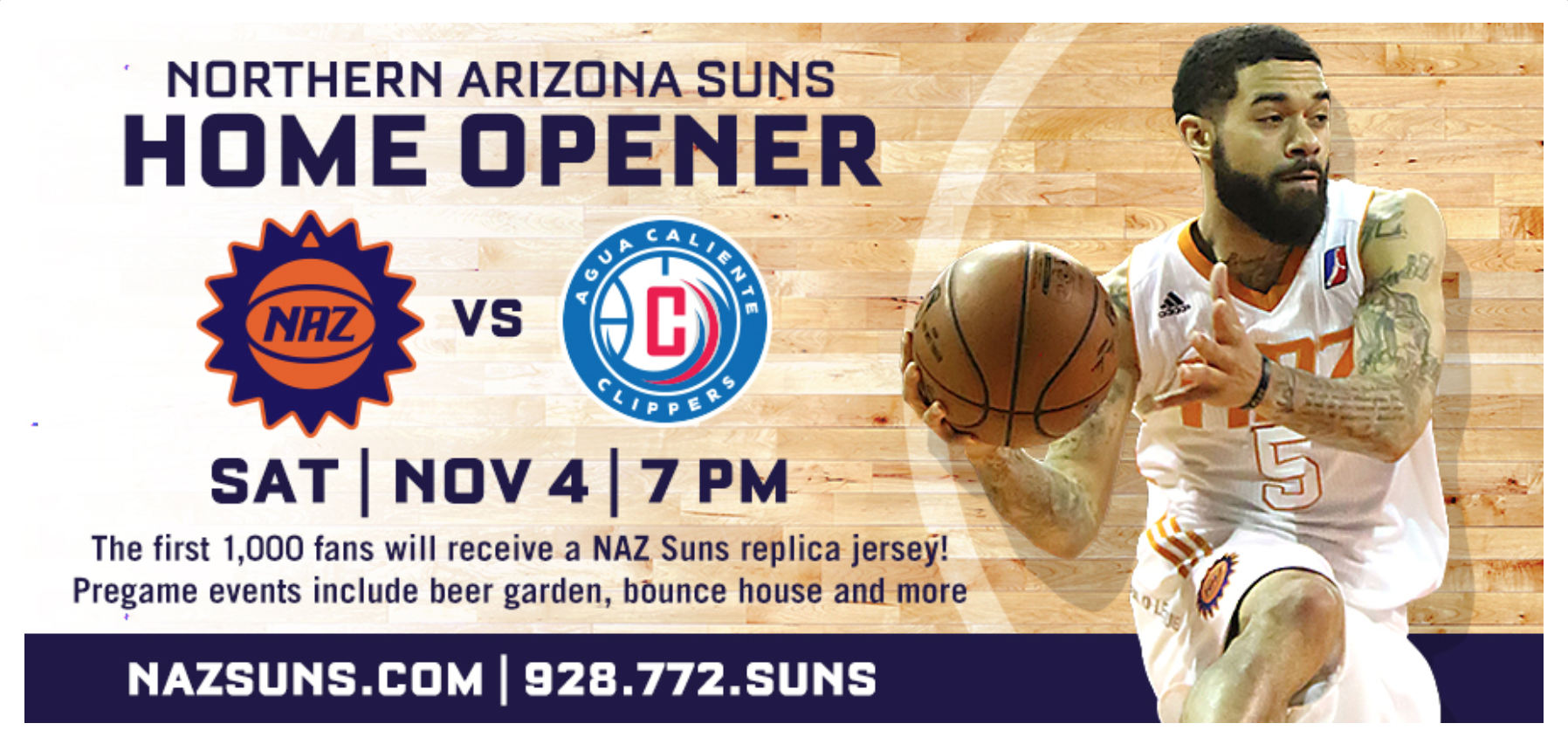 Court Dedication at Mile High Middle School in Prescott Sept 28th
The Phoenix Suns will host a court dedication at Mile High Middle School in Prescott on Thursday, Sept. 28 to commemorate the newly refurbished basketball court that is part of the Suns' statewide community initiative to refurbish, restore or build 50 courts throughout Arizona.  Suns Managing Partner Robert Sarver and Phoenix Suns Charities awarded a $1 million grant to renovate basketball courts throughout the state in celebration of the Phoenix Suns' 50th season in the Valley, ensuring that the next generation has safe, welcoming and enjoyable places to play the game we love.  For more information or to view the complete list of the 50 courts, please visit Suns.com/50Courts.  Following the court dedication, Suns Community Ambassador Steven Hunter, who will be joined by The Gorilla, Buckets the Ball Hog and members of the Suns' Solar Squad, will lead an interactive basketball pep rally.
Friday, Sept 29th, Phoenix and NAZ Suns Hosting Fan Fest
Starting at 3 p.m. on Friday, Sept. 29, the Phoenix and NAZ Suns will host a Fan Fest just outside of the Prescott Valley Event Center, home of the NAZ Suns, to get fans warmed up for the Open Scrimmage, which tips off at 6:30 p.m.  The Fan Fest will feature live music, interactive games, a kids area and enter-to-win prizes, including autographed Suns merchandise and Suns tickets.
The Open Scrimmage, featuring a Suns intra-squad matchup, is a free, fan-friendly event that provides a unique opportunity to see the 2017-18 Suns team in person before the first home preseason game.  The event will have open seating (lower bowl only, no courtside access) on a first-come, first-served basis and includes a post-game autograph session.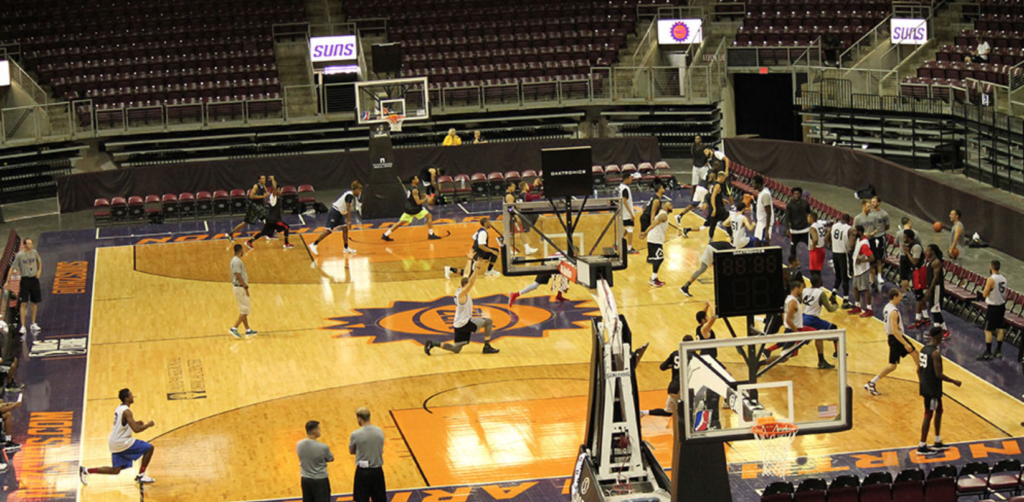 NAZ Suns try-outs took place earlier this week at the Prescott Valley Events Center. Images courtesy of NAZ Suns Website.
Don't Forget to come out early and enjoy one of the many establishments in TALKING GLASS including dining, shopping and entertainment.
More about >>TALKING GLASS<<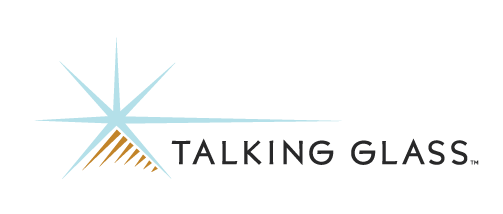 Court Dedication
Mile High Middle School
300 S Granite St
Prescott, AZ 86303
Thursday, Sept. 28th
1:30-2:30 p.m.
Suns Open Scrimmage and Fan Fest
Prescott Valley Event Center
3201 N. Main St.
Prescott Valley, AZ 86314
Friday, Sept. 29
Fan Fest 3-6:30 p.m.
Open Scrimmage Doors Open at 5 p.m.
Open Scrimmage Tips Off at 6:30 p.m.
For more information or to request media credentials, contact Jake Withee (970-319-2260, [email protected]) or Carlos Manzanillo (858-344-8620, [email protected])
About Fain Signature Group
Since 1874, the Fains have been stewards of the land and its resources. Fain Signature Group (FSG) operations include residential, commercial, and industrial development.
Some previous developments include the Entertainment District, Glassford Hill Marketplace, Fry's Neighborhood Center, Prescott Country Club, Villages at Quailwood, Quailwood Golf Course,Tapestry Apartments, Homestead TALKING GLASS Luxury Apartments.
For more information on the history of Prescott Valley and the Fain Signature group, go to: "Remembering Norman W. "Bill" Fain".