Prescott Candidate Forum October 18, 2017
MEDIA NOTIFICATION – Prescott Candidate Forum
If you would like to submit your questions to be presented, please email your questions to:
Hassayampa Inn, Marina Room
122 E. Gurley Street, Prescott, AZ. 86301
5:30 – 7:00pm
October 18, 2017
Sandy Griffiths
Yavapai County Contractors Association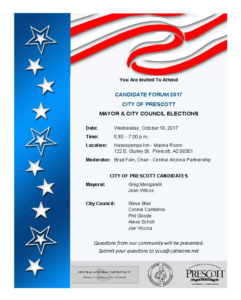 About Fain Signature Group
Since 1874, the Fains have been stewards of the land and its resources. Fain Signature Group (FSG) operations include residential, commercial, and industrial development.
Some previous developments include the Entertainment District, Glassford Hill Marketplace, Fry's Neighborhood Center, Prescott Country Club, Villages at Quailwood, Quailwood Golf Course,Tapestry Apartments, Homestead TALKING GLASS Luxury Apartments.
For more information on the history of Prescott Valley and the Fain Signature group, go to: "Remembering Norman W. "Bill" Fain".