NAZ SUNS ANNOUNCE 2017-18 OPENING NIGHT ROSTER
Suns set 11-man roster heading into Saturday's home opener, waive four on Thursday
The Prescott Valley Events Center's NBA G-League team, the Northern Arizona Suns, announced their 2017-18 Opening Night roster today.
The NAZ Suns will have 11 players for their home opener against the Agua Caliente Clippers of Ontario on Saturday, Nov. 4, at 7 p.m. The 2017-18 team has four returning players, three affiliate players, two players they picked in this season's NBA G League Draft, a Two-Way player and a player they acquired with a trade one day before the draft.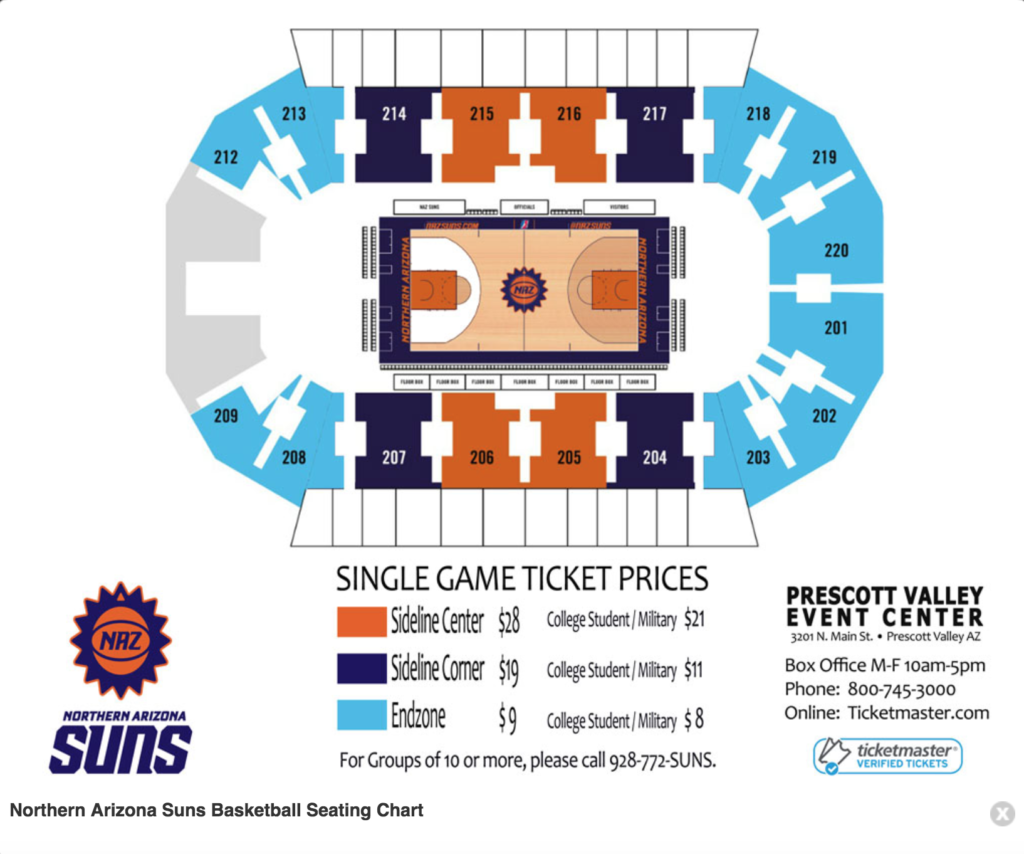 Askia Booker, Josh Gray, Shaquille Harrison and Xavier Silas are all returning from Northern Arizona's inaugural campaign. Gray and Harrison both played for NBA teams in the Summer League, with Gray averaging 7.0 points and 3.0 assists for the Orlando Magic, while Harrison tallied 10.3 points per game on 61.1 percent shooting for the Phoenix Suns. Booker, along with Gray, earned an invite to the NBA G League Elite Mini Camp in Chicago in May, while Silas played in the Big3 over the summer. Last year, Booker led the team in assists per game (5.4) and was third in scoring (15.5 PPG). Gray was second on the team in assists (4.5 APG), Harrison averaged 9.8 PPG and 4.1 RPG, while Silas led the team in three-point shooting, making 121 three-pointers over 40 games.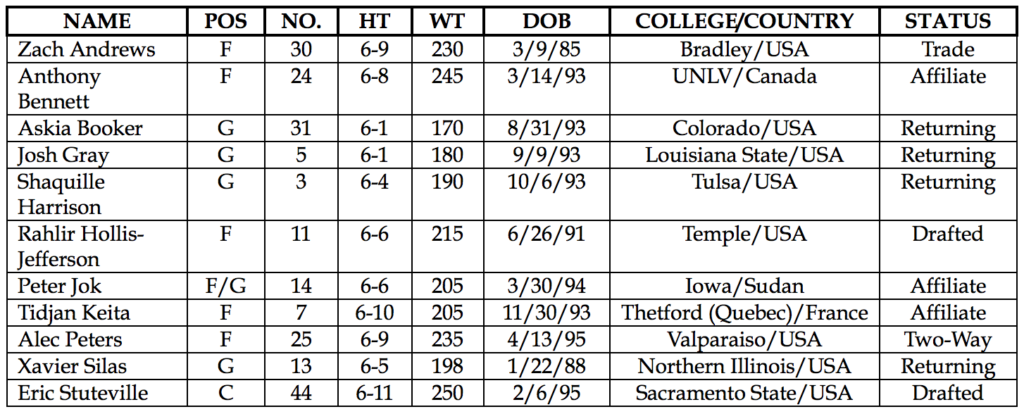 Anthony Bennett, Peter Jok and Tidjan Keita have all made the team after being allocated to NAZ from the Phoenix Suns. Bennett is a former NBA No. 1 overall draft pick, Jok is coming off an illustrious four-year career at Iowa and a 2016-17 campaign where he lead the Big Ten in scoring, while Keita makes his way to the United States from playing in Canada.
Eric Stuteville and Rahlir Hollis-Jefferson were each drafted by the NAZ Suns on Oct. 21. Stuteville was selected first overall, coming off a great collegiate career at Sacramento State, becoming the first center in school history to score 1,000 career points. Hollis-Jefferson (picked sixth overall) is a NBA G League veteran who took his talents to the National Basketball League of Canada last year, where he won Defensive Player of the Year honors after averaging 2.2 steals per game over 38 contests.
Alec Peters will make his debut with the Phoenix Suns' NBA G League affiliate under a Two-Way Contract on Saturday. The forward out of Valparaiso was drafted by the Phoenix Suns in the second round of the 2017 NBA Draft with the 54th overall pick. He was named the Horizon League Player of the Year as a senior following a four-year career where he became Valparaiso's all-time leader in scoring rebounding, field goals made, free throws made and games started. Peters averaged 17.5 points in 134 games for the Crusaders.
Zach Andrews was traded to the NAZ Suns on Oct. 20 from the Iowa Wolves. He last played for the Brisbane Bullets, a team in the National Basketball League (NBL) in Australia. He has played four seasons in the NBA G League, averaging 7.6 points on 60.5 percent shooting, 6.1 rebounds and 0.8 blocks over 108 games (59 starts).
Four players were waived Thursday, as the roster limit is 10 players, with two extra spots on the team available for assigned players or players under Two-Way contracts.
Asaad Woods, who made the NAZ Suns roster last year as a local tryout, did not make the 2017-18 team. He averaged 1.7 points per game in 23 contests last season.
Steven Green, Chris Washburn and Jerran Young were all waived Thursday as well. All three had made the NAZ Suns training camp roster as local tryouts.
Season tickets are now on sale for the Northern Arizona Suns' second year in the NBA G League. Visit nazsuns.com/memberships to view available full or half season membership options at the Prescott Valley Event Center. Season tickets start at just $192 and come with a plethora of benefits, including first right of refusal for playoff tickets and exclusive events with the team.
Other Events Happening at the Prescott Valley Events Center TALKING GLASS
About Fain Signature Group
Since 1874, the Fains have been stewards of the land and its resources. Fain Signature Group (FSG) operations include residential, commercial, and industrial development.
Some previous developments include the Entertainment District, Glassford Hill Marketplace, Fry's Neighborhood Center, Prescott Country Club, Villages at Quailwood, Quailwood Golf Course,Tapestry Apartments, Homestead TALKING GLASS Luxury Apartments.
For more information on the history of Prescott Valley and the Fain Signature group, go to: "Remembering Norman W. "Bill" Fain".