Fain Turning Trash into Jobs to Support Veterans, The Homeless and Disabled Adults
What would you do if trash was blown on to your property? Would you clean it up yourself? Point your finger and blame someone else? Or, recycle the situation by turning the trash into jobs for disabled adults, the homeless and U.S. Military Veterans? The latter is exactly what the Fain Signature Group is doing.
"Recently, we have noticed our fields opposite the Glassford Hill Marketplace seem to be landing zones for wind-blown plastic bags and trash, creating what many have referred to as "Trashford Hill". This is clearly something we identified as a community concern and therefore have invested time developing solutions and partnerships that will correct the problem and benefit both our community and environment. We have reached out to the stores, the Town of Prescott Valley and our partners at YEI and Helping Hands Ministry to come up with a solution. It is very important to us to keep our natural environment pristine," says Jeff Wasowicz, Property Manager, Fain Signature Group.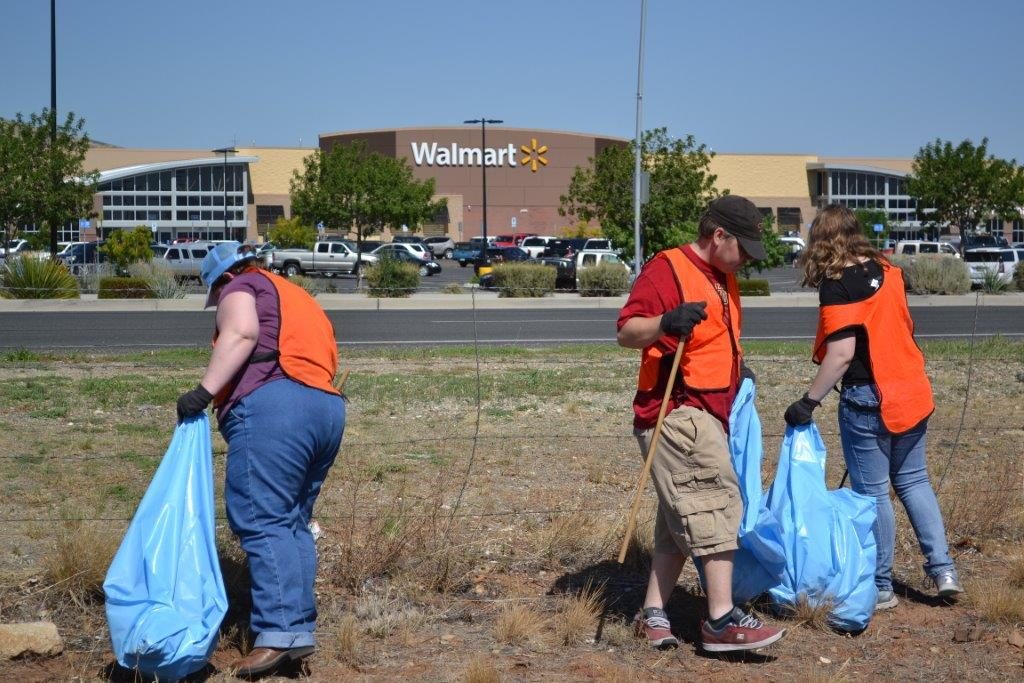 Turning Trash Into Jobs and Opportunity
What Fain has done is to hire YEI! and Helping Hands Ministry to clean up the trash and debris. YEI!, Yavapai Exceptional Industries, provides job training, employment, volunteer placements, and support services for developmentally disabled adult residents within the Central Highlands. Five full and part-time exceptional people assist over 150 individuals daily at three training and employment facilities. YEI! continues to be known as a place where people with disabilities can find gainful employment and a sense of personal pride. The jobs at YEI are numerous and range from bulk mailing services, furniture manufacturing, and landscaping to clean-up projects.

Helping Hands Ministry is an organization dedicated to offering jobs, shelter, and support services to U.S. Military Veterans of the recent middle eastern conflicts. This can provide them with a pathway to successfully transitioning back to civilian life. In the early stages of their return, managing their finances, as well as being able to afford the cost of living can prove to be difficult. But with the help of organizations like Helping Hands Ministry and other financial help options for veterans from places like GoFundMe, (https://www.gofundme.com/c/blog/financial-help-for-veterans), can offer these veterans a lifeline in being able to get their lives back on track, and to focus on the new life that they have in front of them. This type of organization will be beneficial to a lot of returning veterans. Helping Hands operates a men's home which provides shelter for up to 19 men. The home sits on a parcel once a part of the Fain ranch. The land was donated to a ministry effort years ago by Fain patriarch, Bill Fain. That parcel was eventually sold to Helping Hands which now works to provide a fresh start for Veterans.
According to the Fain Signature Group, both YEI and Helping Hands will be employed on regular basis to help keep the area clean. "This is a great opportunity to create jobs and support for individuals who are looking for a hand up and to make a positive contribution to our communities. This is a win for everyone involved. We are proud to be a part of making partnerships like this happen," says Brad Fain, CEO, Fain Signature Group.
As published in PrescotteNews.com: See original article >>HERE<<