Fain Signature Group's Terry Marshall Awarded Realtor® Emeritus

[Article originally published in the news on: SignalsAZ.com]
Terry Marshall, Sales and Leasing with Fain Signature Group of Prescott Valley Arizona, was recently given the status of Realtor® Emeritus by the NATIONAL ASSOCIATION of REALTORS® for more than forty years of membership in the NATIONAL ASSOCIATION of REALTORS®.
Terry graduated from Washburn University and currently serves on the Foundation Board of the University and in 2007 he was named Alumni of the Year. Terry jokes that he is surprised that he was given this honor as he was an ornery student and at one point had even been kicked out of school.
In 1972, Terry and his family moved to Arizona from Topeka, KS for their two year old son who had asthma and needed to live in a drier climate and has lived in Arizona ever since.
At the time he was a company pilot for Payless Shoes out of Topeka and says he learned the real estate business from the left seat of an airplane when he was flying the president of Payless around the United States to the store locations in 36 different states. "I got quite an education flying around the country." Terry said with a laugh.
Terry landed a non-flying job working for a company called Valley Distributing and immediately wanted to get his real estate license which he achieved in 1973. In 1976, he got his broker's license and has never looked back.
Once he had his broker's license, Terry started his own company with two other men who were already in real estate and began selling property similar to what's on https://reali.com/san-diego-real-estate/ today. At the same time, he started and ran a small management company with his wife and they managed and built three small strip centers.
For a period of time, Terry also worked for Checker Auto and Yellow Front stores doing real estate site acquisition work then moved on. He worked as an Independent Broker for Westcor down in Phoenix as a shopping center developer. While he was doing this job, Terry was noticed by president and founder of Fry's Food Stores. Mr. Fry asked him to join their company in 1979 as director of real estate and a year after starting with Fry's, Terry was promoted to Vice President of Real Estate, Construction, and Facility Service. He held this position until he retired from Fry's in 2001. During his time with Fry's Terry oversaw the build of 60 stores in Arizona and remodeling of 35 stores.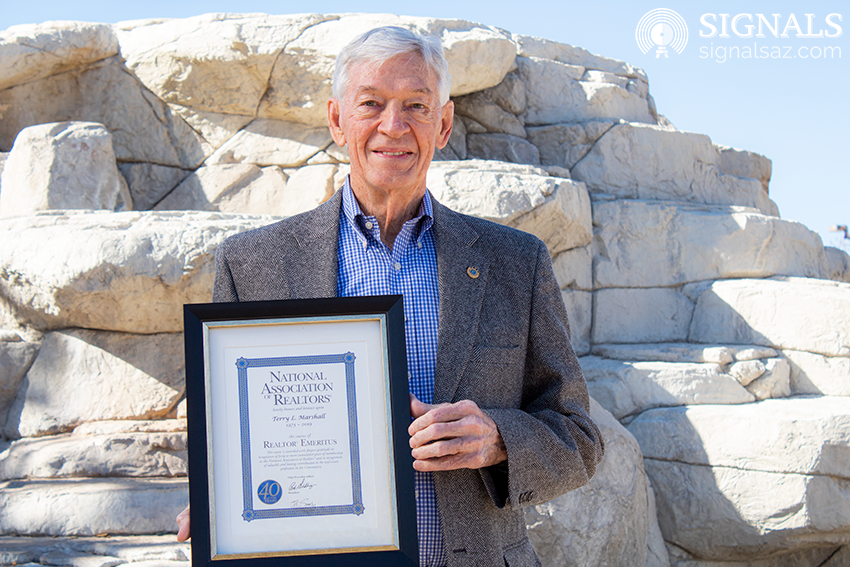 Around the same time that he retired from Fry's, Terry and his wife decided to sell their three small strip centers and was able to invest that money.
After he retired, Terry stayed active in real estate and joined brokerage firm, De Rito Partners, acting as their acquisition and development guy for shopping center development. He did that for nine years and during that time, he was able to purchase a lot and build a home up here in Prescott.
One day, Terry ran into Ron Fain of Fain Signature Group and asked Ron if he had some idea of where he could hang his license because he didn't want to just let it go. Ron responded "Why would we send you someplace else? We want you to come work for us." Today, Terry has been with Fain Signature Group for ten years in April.
As of December 2019, Terry has worked in commercial real estate for 46 years and has been recognized by the Prescott Area Association OF RELATORS® for his years of continuous years of membership in the NATIONAL ASSOCIATION of REALTORS®.
When asked about the award Terry laughs and said "I wasn't even aware of the Emeritus Award." He did go on to say that it was a tremendous honor and he wasn't expecting it. He said the years have just flown by so quickly and he was always active in the real estate industry in one way or another for those forty-six years.
"I was extremely surprised and pleased that I was recognized by a national organization, as well as the NATIONAL ASSOCIATION of REALTORS®, as well as the Prescott Area Association of REALTORS®" said Terry. "It is a good feeling to be recognized among your peers for that type of an award."
When asked about his future plans, Terry said he had once declared was never going to retire. Now at the age of 79, he decided he is going to actively quit working at the end of 2020 but he's not giving up his real estate license. He plans to continue to do investments and anything that's nonresidential, more in commercial as that's his expertise.
"I've always learned that you can't be in expert in every field," said Terry. "But you can be a qualified amateur in areas of real estate industry that you're interested in and have knowledge of."