Fain Signature Group to Begin Building Prescott Valley's First Downtown Apartments
214 Unit, 18 Month Project Marks the Introduction of TALKING GLASS
Prescott Valley, September 14, 2017 – Fain Signature Group hosted a groundbreaking ceremony on Thursday, September 14th, highlighting the family's newest residential project, Homestead TALKING GLASS, a 214 unit urban development in downtown Prescott Valley. Homestead is a five-phase apartment project located between Florentine and Lake Valley Blvd, on Main Street, across from the Prescott Valley Event Center. The apartments will include one, two, and three-bedroom dwellings, similar to the https://www.fourthstreeteast.com/ apartments. The complex will feature a clubhouse, pool, gym, movie theatre, conference center, outdoor fire pits, dog park, garages, and covered parking. Tofel Construction out of Tucson has been selected as the General Contractor with construction projected to start at the end of September 2017 and completed in March 2019. The project will create hundreds of jobs during the 18 month construction period and then transition to providing downtown Prescott Valley's first housing opportunity adjacent to entertainment, shopping and dining all within walking distance. PB Bell will be managing leasing for Homestead TALKING GLASS. Those interested in acquiring leasing information for the Homestead TALKING GLASS can call 928-775-3131 or go to the leasing website at www.HomeSteadTG.com
TALKING GLASS

Groundbreaking of the 214 apartments coincides with the introduction of TALKING GLASS, a project the Fain Signature Group has been working on for the past two years.

"Bill Fain had a vision – he developed it as a young man and for over 50 years he carefully nurtured that vision – to create a place where people could live their lives affordably, work to provide for their families and also have a place to entertain and create memories….a community and downtown to call their own," says Brad Fain, CEO, Fain Signature Group.

"It's an exciting new voice, description, and place where life, work and play all come together in Prescott Valley. It also celebrates Prescott Valley's unique history," continues Fain. "As pioneers moved into and through the rugged Arizona – New Mexico Territory in the late 1800s, methods of communication were quite primitive. The heliograph, an apparatus for telegraphing by utilizing the sun's rays reflected from mirrors, became the first method of communications denoting safe or unsafe travel. Glassford Hill was one such hub of communication. Now, TALKING GLASS will become a living reference to the storied past of our community, and the narrative of Prescott Valley currently being scripted. A vehicle to illustrate integrity, unique community pride, and ongoing commitment to all residents and visitors. And to launch Talking Glass, we embark on this journey with the Entertainment District and Homestead TALKING GLASS, paying homage to our family's legacy, and the rich and storied history of Prescott Valley, that began simply as Lonesome Valley."

"Speaking with many of our commercial tenants and business owners in the downtown – TALKING GLASS area, the 214 apartments are highly anticipated to be a big boost in business, as residents will be able to walk or bike rather than drive to their favorite restaurants, shops, businesses and of course the Events Center," says Brad Fain.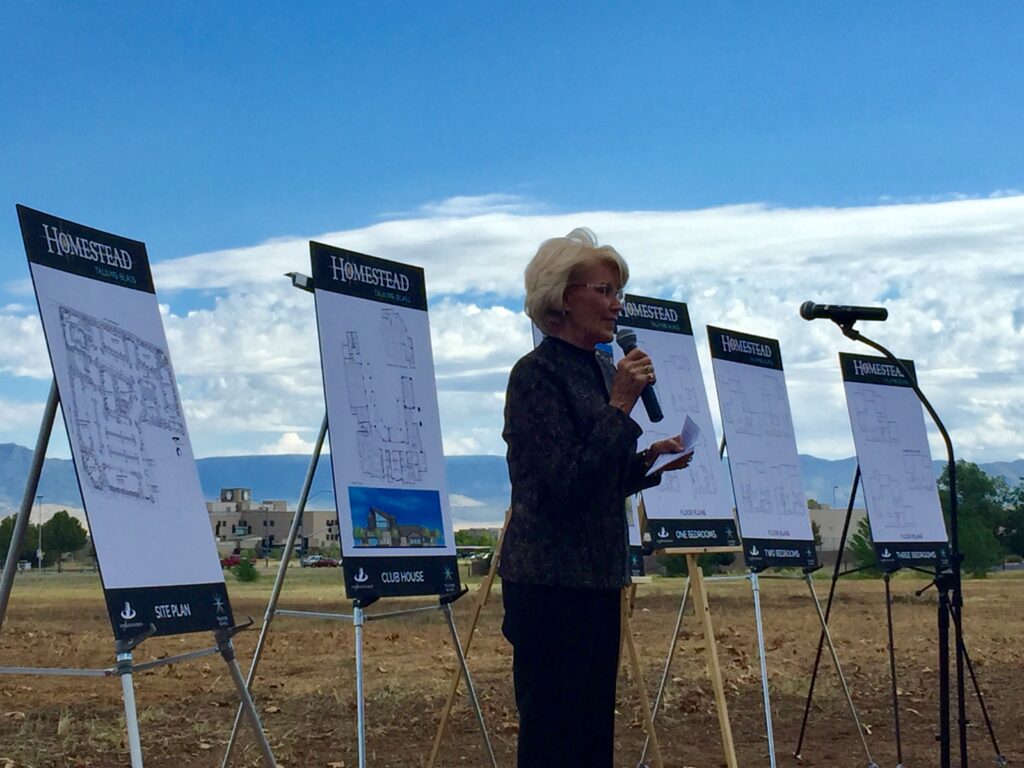 Nancy Fain opened the ceremonies
Brad Fain delivered main address

Homestead at Talking Glass ball caps!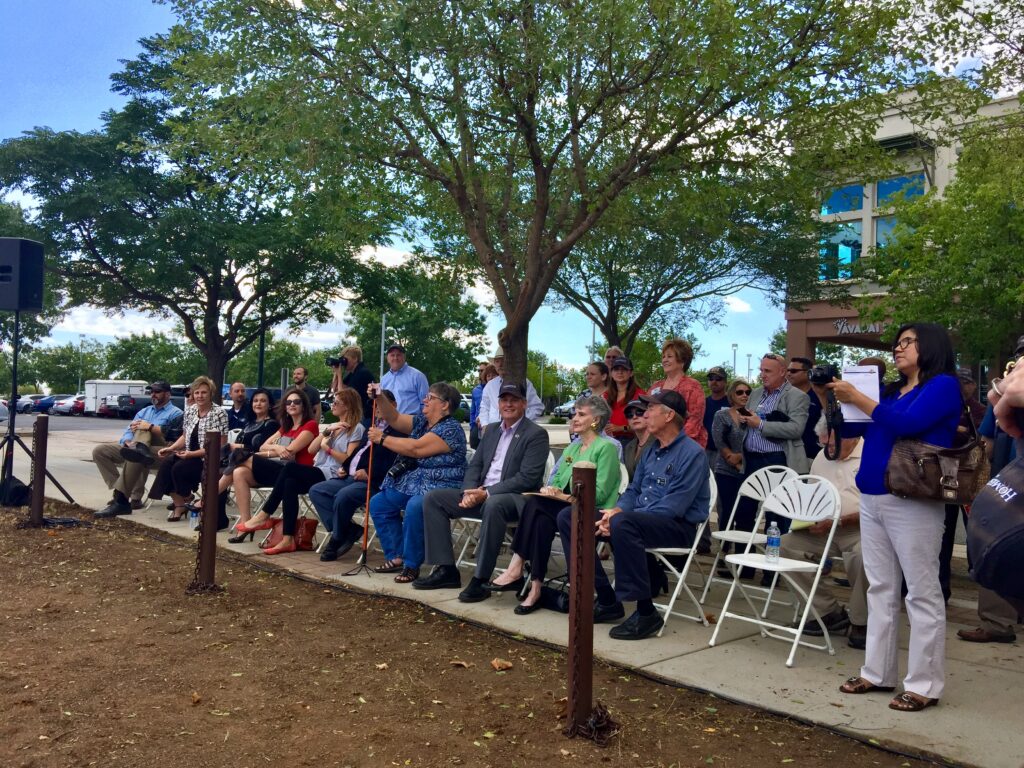 Media and VIPs attended the Homestead TALKING GLASS Groundbreaking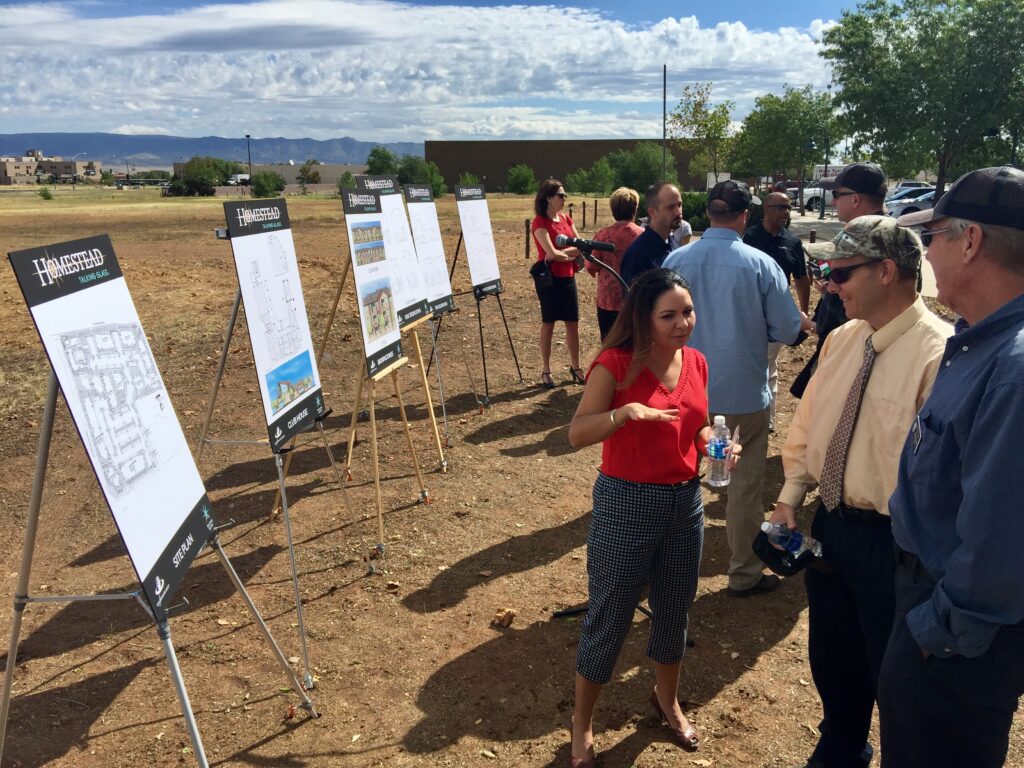 Attendees viewing elevations and renderings of Homestead TALKING GLASS, Prescott Valley's first apartments located in the heart of downtown.
About Fain Signature Group
Since 1874, the Fains have been stewards of the land and its resources. Fain Signature Group (FSG) operations include residential, commercial, and industrial development.
Some previous developments include the Entertainment District, Glassford Hill Marketplace, Fry's Neighborhood Center, Prescott Country Club, Villages at Quailwood, Quailwood Golf Course,Tapestry Apartments, Homestead TALKING GLASS Luxury Apartments.
For more information on the history of Prescott Valley and the Fain Signature group, go to: "Remembering Norman W. "Bill" Fain".
MEDIA CONTACT
Guy Roginson
Fain Signature Group
3001 N.Main Street #2B
Prescott Valley, Arizona 86314
Telephone – 928.772.8844
Email – [email protected]
Web – www.FainSignatureGroup.com