Fain Invites Community to Design Together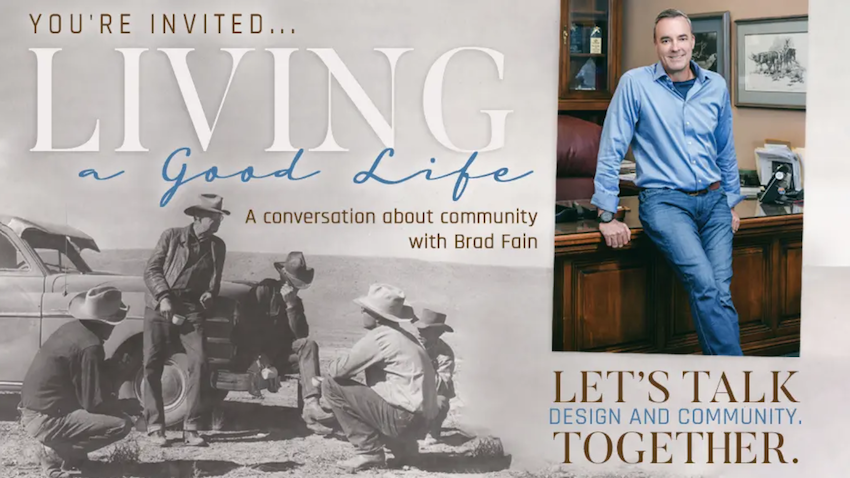 Fain Signature Group's CEO, Brad Fain, has invited residents as well as leadership to join in the process of community design and building. Fain Signature Group has been a leading community builder in Prescott Valley since 1960 when Bill Fain started developing the central Arizona region and the Fain Family cattle ranch. Today, downtown Prescott Valley, the Findlay Toyota Center, Civic Center and Town Center are a part of what used to be grazing land of the historic Fain Rafter Eleven Ranch.
"We want to share why we live here and what possibilities we can create if we all design together for the future of Prescott Valley. We want to address many subjects including the housing challenges, labor shortages, the importance of training and education, growth, and of course, water. We also want to share our history and what it took to make Prescott Valley what it is today. These are not simple subjects. What we are creating is a space for civil discussion rooted in respect and curiosity. How can we build affordable housing? Who decides what stores and supermarkets come here? How can we improve on the social and environmental aspects of community building? Since the 1870's, our family has planned for the future in generational terms, not just two to five years out. This is what we practice daily at Fain Signature Group. We think the public will be interested in discussing these challenges and opportunities with us so we may design better, together." says Brad Fain.
Fain's first podcast and invite to the community can be viewed on their YouTube and podcast channels, as well as the latest edition of TG Magazine's Rise of the Trades edition – publications owned and operated by Talking Glass Media, Fain Signature Group's multimedia arm.
Read
Brad Fain's Invite to Design Together via TG Magazine's publisher's letter: https://issuu.com/talkingglassmedia/docs/rise-of-the-trades/s/15238328
Watch Brad Fain's Invite to Design Together
Listen
About Fain Signature Group
As one of central Arizona's original homesteading families, the Fains have been calling the Prescott Valley region home since 1874. Fain Signature Group (FSG) is a community building organization comprised of local families passionate about living here. The FSG Board and its employees represent families that were born, educated, raised, live and /or work in Prescott Valley. Their mission is to make a great life for all with community design, long-term vision and regional collaboration at the core of their practice.
For more info, go to: www.FainSignatureGroup.com