Fain Family Supports Captain CrossFit 11th Annual Hotshots 19 Memorial Workout & Fundraiser
On August 26, 2023, Captain CrossFit will host the 11th Annual Hotshots 19 Memorial Workout and Fundraiser, presented by AzOPT. Numerous members of Fain Signature Group and the Fain family are excited to be in attendance to support the event. This event is dedicated to honoring our 19 brave firefighters who lost their lives in the line of duty while further supporting fire education. Proceeds from the event benefit Arizona Wildfire and Incident Management Academy, as well as two Fire Science scholarship funds created to honor the memory of Hotshots Travis Turbyfill and Clayton Whitted for students in the Yavapai College Fire Science Program.
For the past 10 years, Captain CrossFit has welcomed local, state, and national supporters to their box for a day of remembrance, fitness and fundraising. Last year's event raised more than $20,000, the largest yearly total to date. This year's event hopes to eclipse that amount. In total, Captain CrossFit has raised more than $100,000. Participants of all fitness levels – competitors, athletes, Crossfitters, and fitness enthusiasts – are encouraged to register. Others can be a part of the event by attending as spectators.
"This workout symbolizes the physical demands faced by firefighters while paying homage to the fallen heroes," says Michelle Fain, the owner of Captain CrossFit, located near downtown Prescott. "It consists of 6 rounds of 30 air squats (June 30), 19 power cleans (the Hotshots heroes we lost), 7 strict pullups (their station number) and then a 400-meter run (the distance their station is from our gym) completed as fast as possible."
The Hotshots19 Memorial Workout holds a significant place in the hearts of Captain Crossfit, their members, firefighters, and the community. It commemorates the 19 Granite Mountain Hotshots who tragically perished while battling the Yarnell Hill Fire on June 30, 2013. These heroic individuals made the ultimate sacrifice to protect lives and property, and this event serves as a testament to their courage and dedication.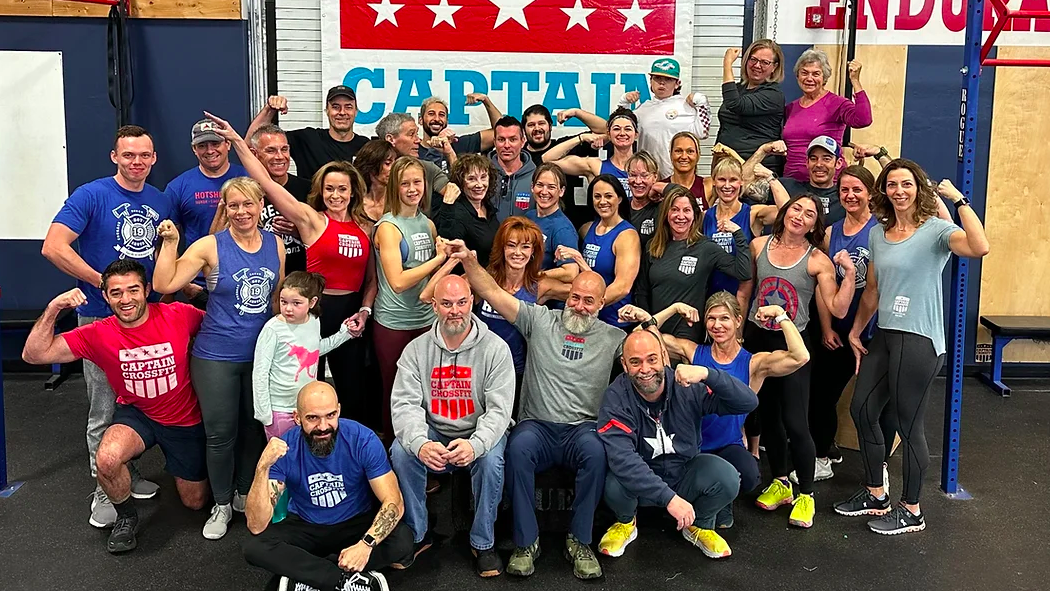 Hotshots19 Memorial Workout and Fundraiser Event Details
Date: August 26, 2023 from 8 am – 4 pm
Location: Captain CrossFit – 420 6th Street, Prescott, AZ 8630
Admission: Open to the public
Participants must register www.captaincrossfit.com.
Spectators – $10 donation at the door
Memorial: At 12 p.m. we will pay tribute to the Granite Mountain Hotshots and all firefighters who have
made the ultimate sacrifice. We reflect on their bravery and express gratitude for their selfless service.
Proceeds from the event benefit two scholarship funds created to honor the memory of Hotshots Travis Turbyfill and Clayton Whitted. Established in 2018, these scholarships benefit students enrolled at Yavapai College Fire Science Program. Selection criteria for awards were created by Stephanie Turbyfill and Kristi (Whitted) Barton as a tribute to their husbands' service and sacrifice, and a
commitment to supporting the legacy of excellence in Fire Science Training.
More about Captain CrossFit
Prescott's premier CrossFit facility located near downtown. Since 2011, our mission is to train you to live the life that you want to live, in a safe and fun environment. For more information, please visit www.CaptainCrossfit.com.
More about AzOPT
Arizona Orthopedic Physical Therapy (AzOPT) opened a Prescott physical therapy clinic in 2019 and Kids Place, their separate, dedicated pediatric therapy clinic in 2020. Located in the Frontier Village Center, AzOPT and Kids Place help each individual function at their best. Feel Better, Live Better, Function Better. For more information, please visit www.AzOPT.net.
About Fain Signature Group
As one of central Arizona's original homesteading families, the Fain's have been calling the Prescott Valley region home since 1874. Fain Signature Group (FSG) is a community building organization comprised of local families passionate about living here. FSG ownership and its employees represent families that were born, educated, raised, live, and/or work in Prescott Valley. Their mission is to make a great life for all with community design, long-term vision, and regional collaboration at the core of their practice. For more info, go to: FainSignatureGroup.com.