Community Preparedness Fair
Annual Community Preparedness Fair to take place Saturday, October 14, 2017, Harkins Theater Parking Lot, Entertainment District TALKING GLASS
There are occasions when incidents happen and response teams are more than 15 minutes away. There are also occasions when accidents can happen in a split second and need an emergency response. Sometimes, we need to take matters into our own hands and be prepared for any unpredictable scenarios, whether it's going for CPR training in Scarborough or attending his community preparedness fair.
Starting at 10 am on Saturday, October 14th, the annual community preparedness fair will be taking place at the Harkins Theater parking lot, just north of Buffalo Wild Wings, in the Entertainment District TALKING GLASS. There will be dozens of booths and demonstrations, showing what people should do if ever they find themselves in an emergency situation.
Booths and Demonstrations will include:
Stay-alive tips from Central AZ Fire
Infant, youth and adult CPR instruction
Need-to-know emergency first aid
Search & Rescue experts reveal do's and don'ts
CERT min-emergency response tips
Secrets of emergency food storage
Wet / dry pack canning
HAM Radio – how to get trained and licensed
Dutch oven cooking made easy
How to make a water purification kit
How to build a 72 hr grab and go kit
How to make and use a solar oven
See the Prescott Valley Police Mobile Command Center (cool!)
What documents you need in an emergency
The real scoop on solar powered generators
Learn pet & livestock emergency care
Best emergency gardening tips and tricks
How neighbors can prepare together
Do-now tips for financial preparedness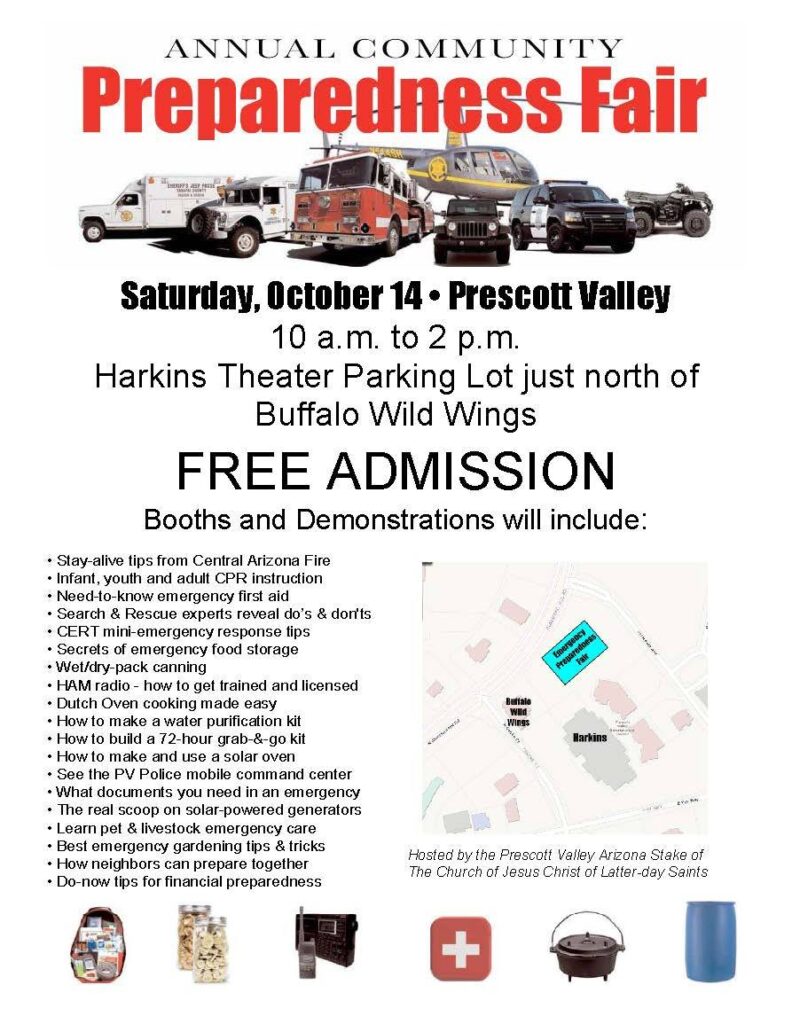 About Fain Signature Group
Since 1874, the Fains have been stewards of the land and its resources. Fain Signature Group (FSG) operations include residential, commercial, and industrial development.
Some previous developments include the Entertainment District, Glassford Hill Marketplace, Fry's Neighborhood Center, Prescott Country Club, Villages at Quailwood, Quailwood Golf Course,Tapestry Apartments, Homestead TALKING GLASS Luxury Apartments.
For more information on the history of Prescott Valley and the Fain Signature group, go to: "Remembering Norman W. "Bill" Fain".