Commercial Lease in the Heart of Prescott Valley's TALKING GLASS
Surrounded by Fry's Shopping Center, Kohl's, Walmart Super Center and the Prescott Valley Events Center
Commercial lease available (retail), located at 3140 N. Glassford Hill Road, Prescott Valley, AZ. 86314 is in the middle of it all! A highly visited area, adjacent some of the biggest anchors in the region. If you're looking for new space in a busy place, this is it!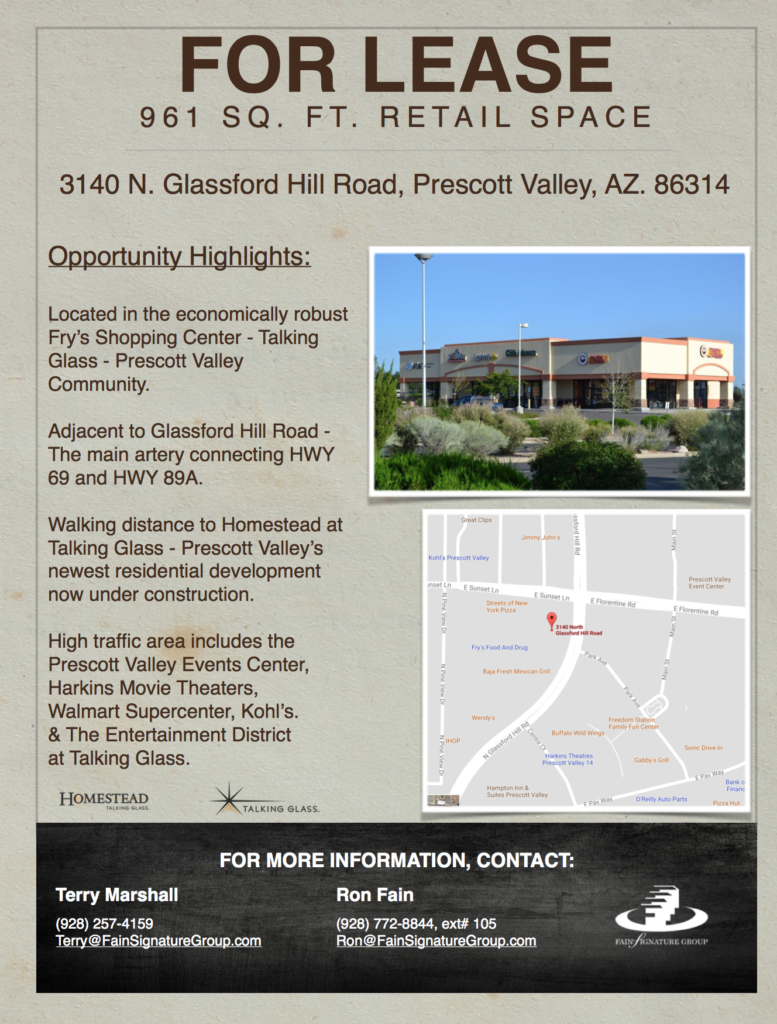 For lease information, please contact:
Terry Marshall: 928-257-4159
Ron Fain: 928-772-8844, ext# 105

About Fain Signature Group
Since 1874, the Fains have been stewards of the land and its resources. Fain Signature Group (FSG) operations include residential, commercial, and industrial development.
Some previous developments include the Entertainment District, Glassford Hill Marketplace, Fry's Neighborhood Center, Prescott Country Club, Villages at Quailwood, Quailwood Golf Course,Tapestry Apartments, Homestead TALKING GLASS Luxury Apartments.
For more information on the history of Prescott Valley and the Fain Signature group, go to: "Remembering Norman W. "Bill" Fain".