Building Community and Economy through Partnerships and Publications
Digital & Print Publications to Connect Community
Prescott Valley's community builder is building a community in ways most developers wouldn't think of doing. This month, Fain Signature Group's media arm, Talking Glass Media, just delivered to the community the latest version of TG Magazine, Prescott Valley's newest print voice. This edition focuses on TECH in central Arizona. Topics of the edition include Arts & Culture, solar power coming to Prescott Valley, and remote workers flocking to rural Arizona.
TG Magazine is a quarterly print magazine (40,000 copies annually) that is also distributed on the web by SignalsAZ.com, another media property of the Fain Signature Group (FSG). SignalsAZ.com is now the region's leading good news website, garnering nearly 4 Million page views in 2020. Both of Fain's publications are centric to Prescott Valley while covering the entire region. Most unique to the entire media effort by FSG is that all the published content is positive. You won't find any negativity or divisive content anywhere in the FSG media family.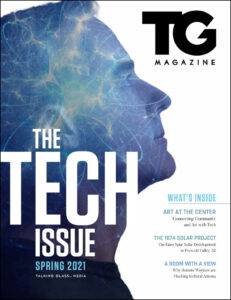 Partnerships to Drive Economic Activity
In addition to FSG's media platforms, its media arm Talking Glass Media (TGM), has recently partnered with the Town of Prescott Valley to help print and distribute the Town's Recreation & Events Guide. The guide is a quarterly print publication showcasing the region's events, town educational classes, parks & trails directory and annual calendar. FSG's publishing effort is at no charge to the Town.
"It is through community partnerships like this one with Talking Glass Media that we improve our quality of life and grow the amazing programs and events our Town has to offer to its residents. We have big plans this summer, including a Rhythm and Brews festival, a bigger and better Fourth of July, a Summer Concert Series and Movies Under the Stars. This partnership will help us extend our marketing reach, improve the promotions of our special events, provide new branding opportunities while promoting the Town's recreation classes, and the arts and culture in Prescott Valley," says Casey Van Haren, Community Services Director, Town of Prescott Valley.

Prescott Valley's Recreation Guide is to be produced by Fain's media arm, at no cost to the Town.