Arizona Wranglers Remain in Prescott Valley with Help from Universal Homes and Fain Signature Group
Q:
What happens when your town's reigning championship indoor football league team get's a dreaded call that the housing plan they had secured for the coming season has fallen apart, and the season is less than 60 days away?  
A:
Community Builders get together and produce a WIN for the community.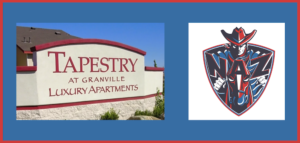 This February 2023, Joe Contadino of Universal Homes with Brad Fain of Fain Signature Group (FSG), partners in the Tapestry Apartments of Prescott Valley, responded to the call for help from Trey Medlock, owner of the Arizona Wranglers, and offered the championship players and coaches enough rentals in order to keep the Town's Wranglers playing at Prescott Valley's Findlay Toyota Center and living in Prescott Valley, AZ.
"The NAZ Wranglers are very grateful for all the help we have received from Fain Signature Group, Universal Homes, and the Tapestry Apartments.  They each jumped at the chance to help the Wranglers with their housing issues for the 2023 season. Everyone knows that housing in Prescott Valley is still very expensive and limited in the amount of units available until a number of units come on board in late 2023," says Trey Medlock, President, Owner, Wrangler Sports Group, LLC.    
"We're happy to help.  The team is good for the community, residents, businesses, and the Findlay Toyota Center.  They are the reigning champions of the Indoor Football League.  As a community, we need to do what we can to help, in this case the team needs a place to live while they defend the title.  Working together towards a common solution that everyone wins, that is what it is to be a community," says Brad Fain, CEO, Fain Signature Group. "We continue to look to the future and work toward providing more housing solutions as our team at FSG aims to address the housing crisis in central Arizona. Be looking for Legado Apartments in downtown Prescott Valley to come online sometime in 2025. Go Wranglers!"
"Prescott Valley is a growing, vibrant community with an ever-increasing list of events, activities, shopping, and dining for our residents.   When the call goes out for help to sustain the community, our answer is always "how can we help".  When we heard the predicament facing the Wrangler housing situation for its team and staff, we went to work, and soon enough we devised a solution for their issue," remarked Joe Contadino, Universal Homes.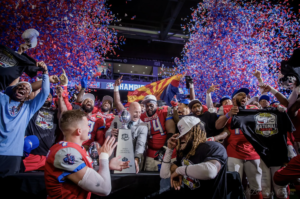 About Fain Signature Group

As one of central Arizona's original homesteading families, the Fains have been calling the Prescott Valley region home since 1874. Fain Signature Group (FSG) is a community building organization comprised of local families passionate about living here. The FSG Board and its employees represent families that were born, educated, raised, live and / or work in Prescott Valley. Their mission is to make a great life for all with community design, long-term vision and regional collaboration at the core of their practice.
Images courtesy of Tapestry at Granville Luxury Apartments and NAZ Wranglers website.